Ramblers Association
The Ramblers' Associationis Britain's biggest charity working to promote walking and to improve conditions for all walkers. With 143,000 members in England, Scotland and Wales, we've been working for walkers for 70 years.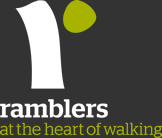 We have over 500 Groups across Great Britain, organised into around 50 Areas, including around 50 Groups for 20s-30s and family walking groups. Through our network of dedicated volunteers and staff, they support all who walk, from beginners to experienced enthusiasts, family groups to solitary strollers and the very young to the young at heart.
Our devolved organisations in Scotland and Wales carry out our charitable work in those countries.
The Ramblers' Association is not affiliated to any political party and is required by its constitution to be non-sectarian. The Association is a democratic, voluntary organisation, registered as a charity (no. 1093577) and as a company limited by guarantee (registered in England and Wales , no. 4458492).
For more information, click to visit www.ramblers.org.uk
The Ramblers' Association is a company limited by guarantee, registered in England and Wales. Company registration number: 4458492. Registered Charity in England and Wales number: 1093577. Registered office: 2nd floor, Camelford House, 87-90 Albert Embankment, London SE1 7TW